Nursery, Foundation & Key Stage 1 Christmas Plays
We hope you have had the opportunity to attend some of the various performances in which your child/children took part during the past few weeks. Many thanks to teachers/staff for preparing the children for these invaluable experiences and to the parents for ensuring all children were suitably prepared for their parts!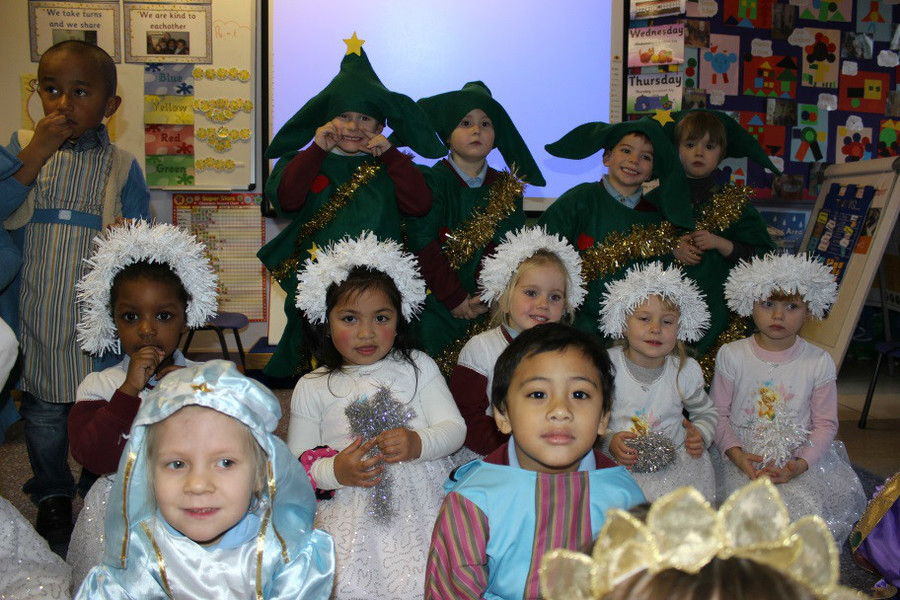 Key Stage 2 Christmas Pageant
On Tuesday 16th December, Primary 6 and 7 performed their biannual Christmas Pageant in Saint Patrick's Church. This was an excellent evening of drama and music. In preparation for the Pageant, Brian McMahon from B-Dramatic assisted the children. Many thanks also to Miss McQuaid, Malachi Cush and Rory Madden who worked so professionally with the choir. This proved to be an invaluable experience as all the children excelled.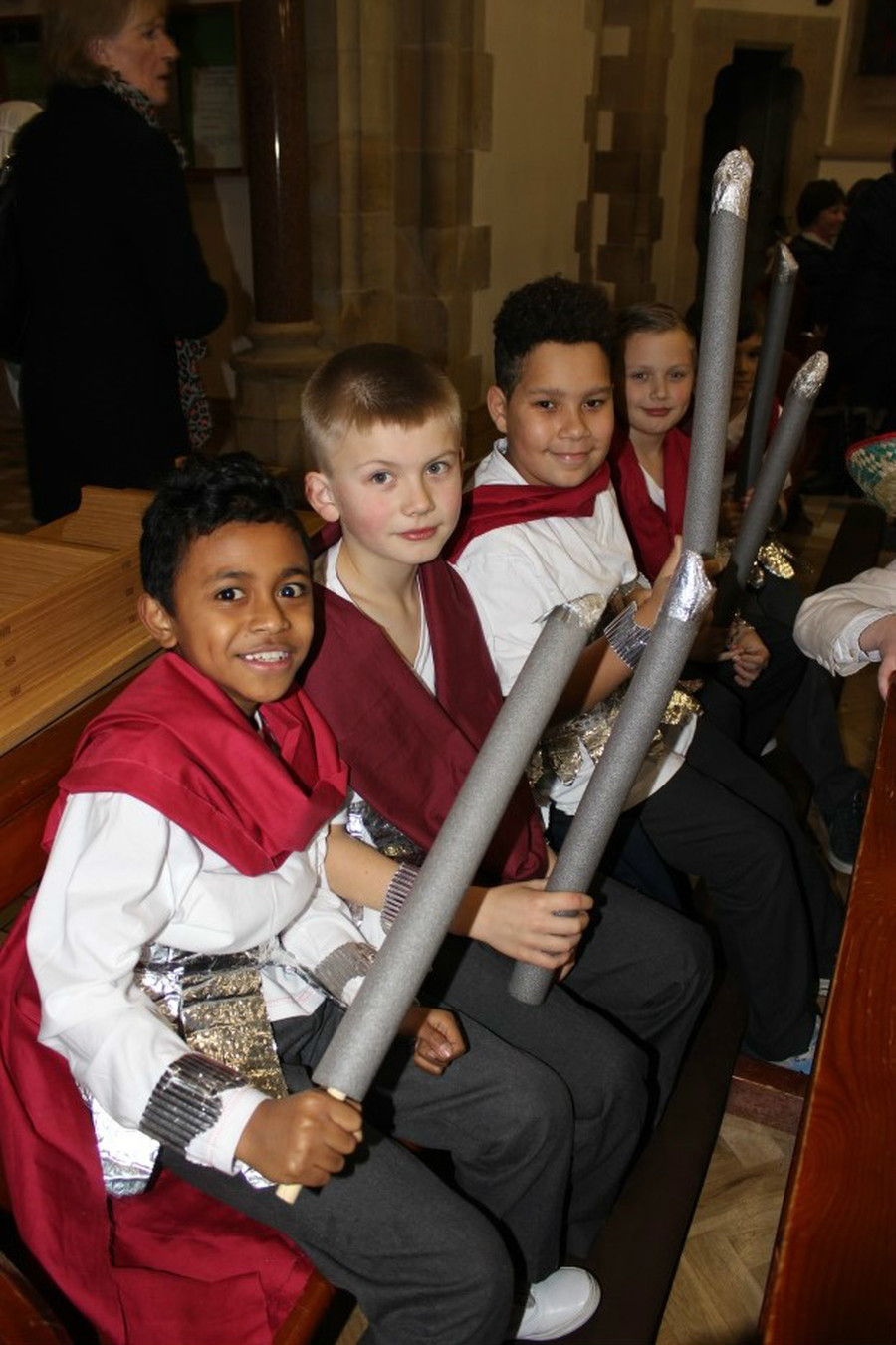 Genevieve the healthy goat visits St. Patrick's Primary School, Dungannon
Our Primary 1 and 2 pupils were thrilled to get a surprise visit from a bright-eyed and bushy-tailed goat called Genevieve on Thursday the 27th of November.
Genevieve is the star of Genevieve and the Farmyard Olympics, Cancer Focus Northern Ireland's fun, educational book for young children, delivered in partnership with Lidl Northern Ireland. The book shows P1 and P2 children how to eat healthily and keep active.
Last year Genevieve was extremely busy, visiting more than 100 primary schools and seeing over 7,000 P1 and P2 children across Northern Ireland. She hopes to pop in to many more schools this year – and teachers who would like her to visit can get in touch with Cancer Focus to arrange a date.
Niamh McDaid, Cancer Prevention Officer, said: "The story of Genevieve and her friends gives healthy lifestyle messages to children at an age when they're most receptive.
"Poor nutrition and lack of physical activity can lead to obesity and a greater risk of cancers and other serious health conditions. However, experts believe that around a third of all cancer deaths could be prevented by improved nutrition.
"Genevieve and the Farmyard Olympics enable us to bring key health messages to local primary school children in an enjoyable and interactive way. We want to lower children's future risk of cancer through the positive messages of eating well and taking regular exercise – it's about making the healthy option the fun option!"
Genevieve and the Farmyard Olympics is part of Cancer Focus's Schools Health Education Package (SHEP) for P1-P7 children.
The Cancer Focus Schools Package is provided in partnership with Lidl NI.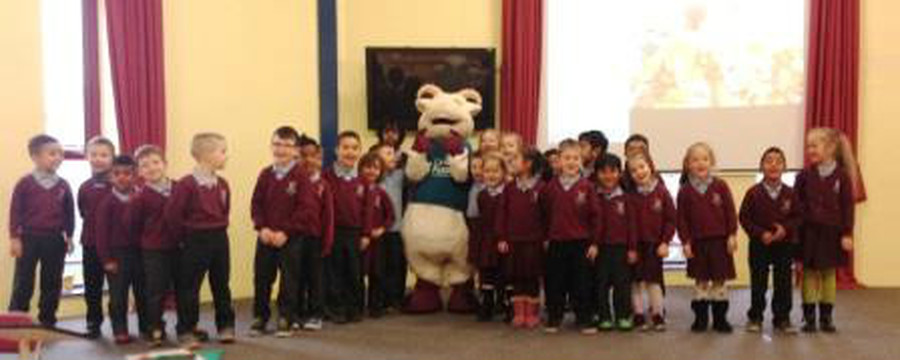 School Inspection
The school received a Very Good Inspection report recently from ETI. I would like to pay tribute to and thank all the teaching and non-teaching staff for their work and commitment not only during the inspection but throughout the year. This is greatly appreciated. A full copy of the published report is available on the ETI website: www.etini.gov.uk
Accelerated Reader
During this term, the Primary 5, 6 and 7 pupils have been engaged in a new scheme called 'Accelerated Reader'. Accelerated Reader is a computer program that helps teachers manage and monitor children's independent reading practice. Your child can pick a book at his or her own level and reads it at his or her own pace. When finished, your child takes a short quiz on the computer. (Passing the quiz is an indication that your child understood what was read). Accelerated Reader gives both children and teachers feedback based on the quiz results, which the teacher then uses to help your child set targets and direct ongoing reading practice. Children using Accelerated Reader choose their own books to read, rather than having one assigned to them. This makes reading a much more enjoyable experience as they can choose books that are interesting to them. In the New Year, this initiative will be extended to the Primary 4 pupils.
Alta Maths
The school has also introduced 'Alta Maths' to all P4-P7 pupils this term. This is a computer based Maths Program which helps children to consolidate their learning. The pupils complete online assessments and practise tests in each area of Maths and it is diagnostic in nature, so the teacher can see aspects that need further attention. There are 5 levels in each Maths area and children work through the levels. This program will help consolidate the pupils' learning and will be available to access from home following the Mid-Term in February. This program will also be of great benefit to the children when they complete their PIM tests in May.